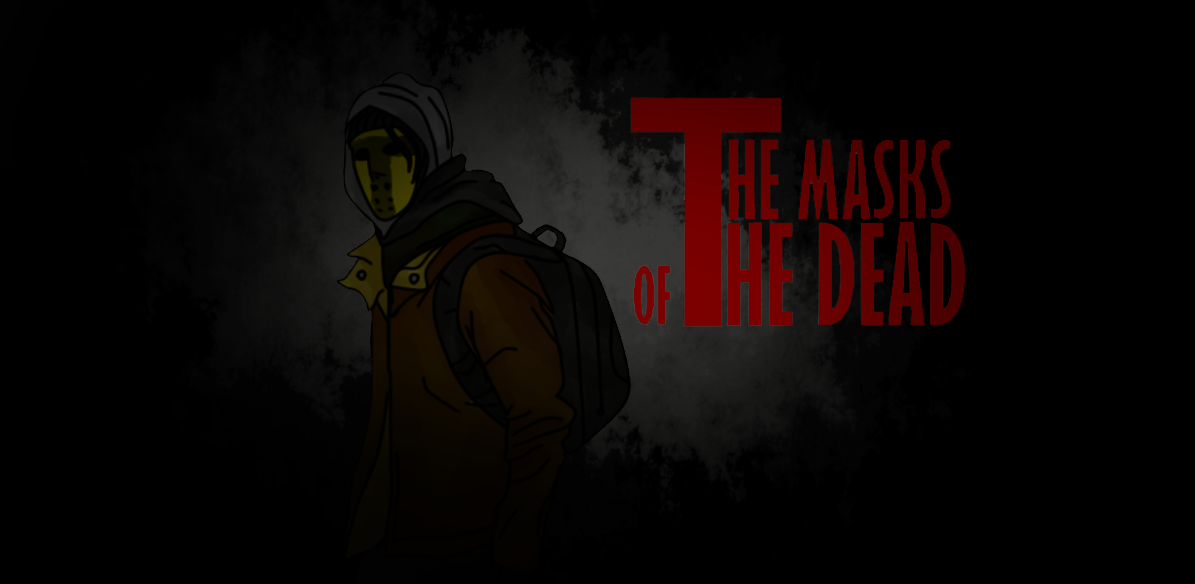 The Masks of the Dead
A downloadable game for Windows
Quando Hideki se viu encurralado no meio de vários zumbis, ele sabia exatamente o que fazer...
Descubra até onde sua capacidade de passar despercebido vai em The Masks of the Dead — um jogo em terceira pessoa que procura explorar a temática do apocalipse zumbi, porém com uma grande condição: você não pode matar os zumbis.
Controle Hideki, um sobrevivente que acabou por ficar preso em um prédio enquanto fugia de uma horda de zumbis. Faça o melhor para evitá-los e descubra uma maneira de sair do prédio, mas cuidado... Qualquer passo em falso poderá ser fatal.

The Masks of the Dead é um jogo de temática zumbi com o objetivo de trazer uma mecânica diferente da usual de chacina de mortos vivos.

Passe por todos os obstáculos, senão será devorado!
Fique atento aos murmúrios dos zumbis para não ser pego de surpresa!
Explore o mapa e encontre tudo o que precisar!
Faça tudo isso enquanto aprecia uma trilha sonora aterrorizante e uma arte pós-apocalíptica!
The Masks of the Dead está sendo desenvolvido utilizando Unity e Blender. Está disponível para Windows apenas em Português. Além disso, o código-fonte está no Github.
---
In English
When Hideki found himself cornered in the midst of several zombies, he knew exactly what to do...
Find out how far your ability to go unnoticed goes in The Masks of the Dead — a third-person game that seeks to explore the zombie apocalypse theme, but with a twist: you can not kill the zombies.
Control Hideki, a survivor who ended up stuck in a building while fleeing a horde of zombies. Avoid the undead if you can and find a way out of the building, but beware... The zombies will be waiting for you.
The Masks of the Dead is a zombie-themed game which aims to bring a different mechanic to the usual undead slaughter.

Go through all the obstacles, otherwise you will be devoured by zombies!
Keep an ear out for the murmurs of the zombies so as not to be caught off guard!
Explore the map and find everything you need!
Do all this while enjoying a terrifying soundtrack and post-apocalyptic art!
The Masks of the Dead is available for Windows in Portuguese. The source code is available on Github.
---
Como jogar (How to play)
Mouse: Rotação da tela (Camera rotation)
Botão Esquerdo do Mouse (Mouse Left Click): Interação com objetos (object interaction)
WASD: Movimento (Movement)
C: Agachar (Crouch)
Shift Esquerdo (Left Shift): Andar (Walk)
---
Créditos (Credits)
Líder de Projeto (Project Leader): William Bráz (Dreammer)
Programação (Programming): Thiago de Pauli, Yago Pessoa.
Arte 2D (2D Art): William Bráz (Dreammer)
Arte 3D (3D Art): Jorge Halker, Eleazar Fernando, Giuliano Lourençon
Publicação (Publishing): Giuliano Lourençon, Elisa Trujillo
Música tema (Menu Song): William Bráz (Dreammer)
Obs: Zombie model: Zombiegirl W Kurniawan, on mixamo.com
| | |
| --- | --- |
| Status | In development |
| Platforms | Windows |
| Publisher | |
| Rating | |
| Authors | Fellowship of the Game, Yago Pessoa, Giuliano Lourençon, Eleazar Fernando Braga, Float07, Motokubo, Dreammer |
| Genre | Strategy |
| Made with | Unity, Blender |
| Tags | 3D, Dark, Escape Game, Horror, Stealth, Survival Horror, Third Person, Zombies |
| Average session | A few minutes |
| Languages | Portuguese (Portugal) |
| Inputs | Keyboard, Mouse |
Install instructions
Baixe o jogo clicando no link de download.
Extraia a pasta para sua área de trabalho ou local de preferência.
Execute TMOTD.exe.
Se divirta!
---
Download the game by clicking on the download link.
Extract the folder to your desktop or to the desired directory.
Run TMOTD.exe.
Have fun!
Comments
Log in with itch.io to leave a comment.
Hey, I made it through, but the zombies don't seem to be stopped by walls. One came through the bathroom wall.