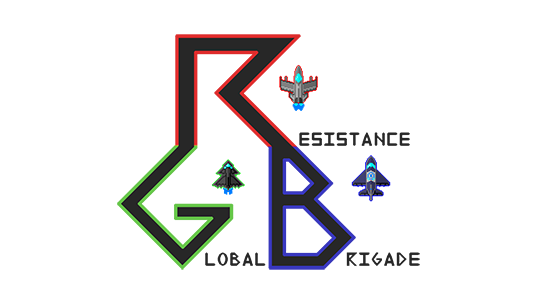 Resistance: Global Brigade
Três ases unem suas forças para lutar contra invasores espaciais marombados!
No futuro distante de 2015, a Terra está sendo ameaçada por uma força alienígena terrível. As três nações mais poderosas do planeta formam uma coalizão para proteger a humanidade. Combinando seus melhores pilotos e tecnologia de ponta de cada nação, o dever da Global Brigade é tirar os alienígenas do planeta! Eles são a última linha de Resistência da Terra. Se eles perecerem, todo o resto está perdido...
Resistance: Global Brigade é um shoot 'em up bullet hell em que você pode controlar três naves diferentes, cada uma com habilidades únicas que podem ser melhoradas a cada rodada. Entre em partidas rápidas com tiros por todo lado, derrote as naves inimigas e vença a guerra intergalática!
Sobreviva o máximo que puder e mate a maior quantidade de inimigos possível para obter a melhor pontuação!

Use os tiros e habilidades especiais de cada nave para lidar com os diferentes inimigos e seus padrões.

Faça melhorias nas suas armas favoritas.

Fique de olho na sua barra de energia. Se ela acabar, os ataques da nave ficaram mais fracos.

Troque de nave principal para recarregar a energia das secundárias.
Resistance: Global Brigade foi desenvolvido em Unity, está disponível em Inglês e seu código-fonte está disponível no GitHub.
In English
In the far distant future of 2015, Earth is being threatened by a terrifying alien force. The three most powerful nations on the planet form a coalition in order to protect humankind. Combining their best pilots and the bleeding edge technology from each nation, the Global Brigade's duty is to push the aliens out of our planet! They are Earth's last line of Resistance. If they perish, all else is lost...

Resistance: Global Brigade is a bullet hell shoot 'em up where you can control three different ships, each one with unique skills that can be improved each round. Get on quick matches, defeat the enemy ships and win the intergalactic war!

Survive as long as you can and kill as many enemies as possible to get the highest score!

Use each ship's unique shots and special skills to handle the different enemies and their patterns.

Upgrade your favorite weapons.

Watch your energy bar. If it depletes, your ship's attack will weaken.

Change the main ship to recharge the energy from the secondary ones.
Resistance: Global Brigade was developed in Unity and its source code is available on GitHub.
Como jogar (How to play)
Movimentação (Movement): WASD/Setas (Arrow Keys)
Ataque primário (Primary attack): Barra de espaço (Space bar)
Ataque especial (Special attack): Shift
Troca de nave (Aircraft change): Q/R
Sair do menu de melhorias (Quit upgrade menu): C
Sair do jogo (Quit game): Esc (Aperte duas vezes/Double-tap)
Créditos (Credits)
Desenvolvimento (Development): Gabriel "Lombardi" Arantes, Giovanni "GIO" Meloni, Leonardo Pereira, Rafael Miranda
Arte (Art): Leonardo Pereira, Rafael "Lag" Clerici, Thiago Carvalho
Música (Music): Henrique Lecco, Thiago Carvalho
Efeitos Sonoros (Sound FX): Giovanni "GIO" Meloni
Publicação (Publishing): Gabriel Pupo
| | |
| --- | --- |
| Status | Prototype |
| Platforms | Windows, HTML5 |
| Rating | |
| Authors | Fellowship of the Game, lecco, RMiranda, Gabriel Arantes, Rafael Pedrosa Silva Clerici, thiagohimself, Leonardo T. Pereira, Giovanni Paolo Meloni |
| Genre | Shooter |
| Made with | Unity |
| Tags | 2D, Arcade, Bullet Hell, Shoot 'Em Up, Top-Down, Top down shooter |