Pão na Chapa Simulator
Os alunos querem comida e você quer ganhar dinheiro!
8:30 da manhã e os alunos estão com fome antes de uma (talvez) interessante aula de Cálculo? Apenas um bom pão na chapa pode animá-los! Jogue com Sandrão em Pão na Chapa Simulator e tente atender o maior numero de pedidos dos alunos na cantina do ICMC.
Preste atenção nos pedidos feitos por todos os clientes, pegue o item certo e entregue-o para o cliente antes que ele se canse e vá embora sem te pagar. Se precisar jogar o item da mão fora, vá até o cesto de lixo. Aperte a tecla Z para pegar e entregar os itens. Movimente o personagem com as setas direcionais.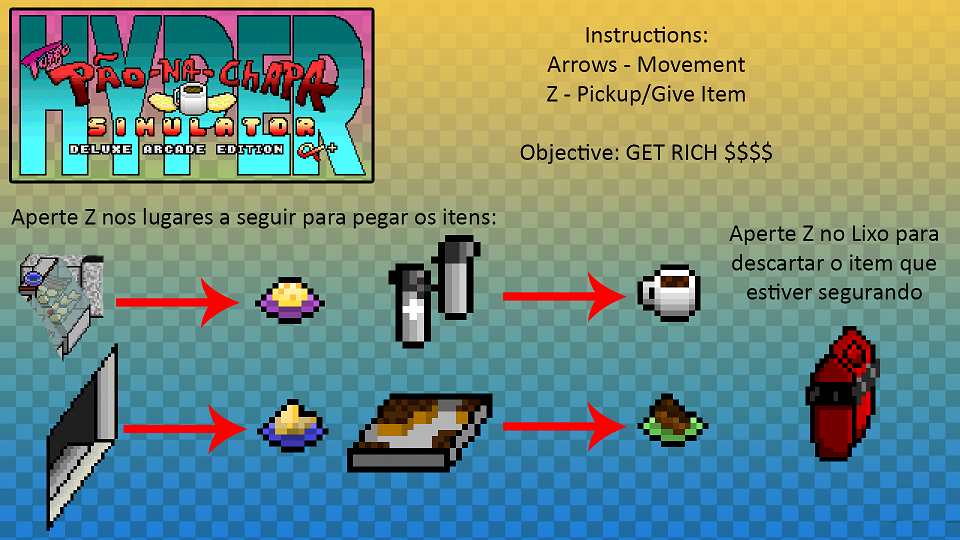 Estética retrô pixel art no melhor estilo arcade
Quatro tipos de itens para testar sua memória
Três tipos de clientes para variar um pouco
Um cheiro delicioso do melhor pão na chapa do ICMC
Pão na Chapa Simulator foi feito como um minigame para o projeto ICMC Party, em 2015, usando a Unity. Ele está disponível para Windows e navegadores Web, apenas em Inglês. Além disso, o código-fonte do jogo também está disponível no GitHub.
---
In English
PLAY AS SANDRÃO AND TRY TO FULFILL AS MANY REQUESTS AS YOU CAN FROM THE STUDENTS IN ICMC'S CANTINA. Pay attention to the requests made by all customers, get the right item and deliver it to the customer before he gets tired and leave without paying you. If you need to throw the holding item away, go to the wastebasket. Press the Z key to pick up and deliver the items. Move the character with the directional arrows. Pão na Chapa Simulator was made as a minigame for the ICMC Party project in 2015, using Unity. It is available for Windows and web browsers, only in English. In addition, the game source code is also available in GitHub.
---
Créditos (Credits)
Programação (Programming): Matheus Soares, Luna Gallo
Arte (Art): Luna Gallo, Anayã Ferreira, Gustavo Santiago
Som (Sound): Gustavo Santiago
Download
Download
Pão na Chapa (v1.0, Windows)
19 MB