CATch
A downloadable game for Windows
CATch is a platform game. Your goal is to reach the stray cat at the top of the tree. Climb as high as you can. It's too high!
Ps.: This version of the game will receive Updates!!
Story:
A little lady was walking her cat through the park until it escapes her lap and climbs on top of a huge tree. Afraid that her cat will fall from above, the poor little old lady asks for help to a firefighter who was passing by towards his work. Now, this firefighter needs to climb the huge tree in search of the smart kitten who always tries to escape from his hands. Too bad the firefighter didn't know that this tree was so tall.
How to play (Como jogar):
Movement (movimento): A (Left/Esquerda) D (Right/Direita) W (Jump and Double jump / Salto e Salto Duplo)
Ps .: The faster you press W twice, the bigger the double jump will be. (Quanto mais rápido você pressionar W para o salto duplo, mais alto você pulará)
Credits (Créditos):
Development (Desenvolvimento):

João Marcos Della Torre Divino
Luiz Gustavo Sincaruk Vieira
Matheus Luis Oliveira da Silva

Art(Arte):

Cecília Almeida de Figueiredo
Isabella Bretas
External References (Referências Externas):
Install instructions
Download the .zip file, extract it in your preferred location and click on the CATch.exe file to play.
Comments
Log in with itch.io to leave a comment.
EU ODEIO UM PÁSSARO AAAAAAAAAAAA EU MORRI LOGO ALI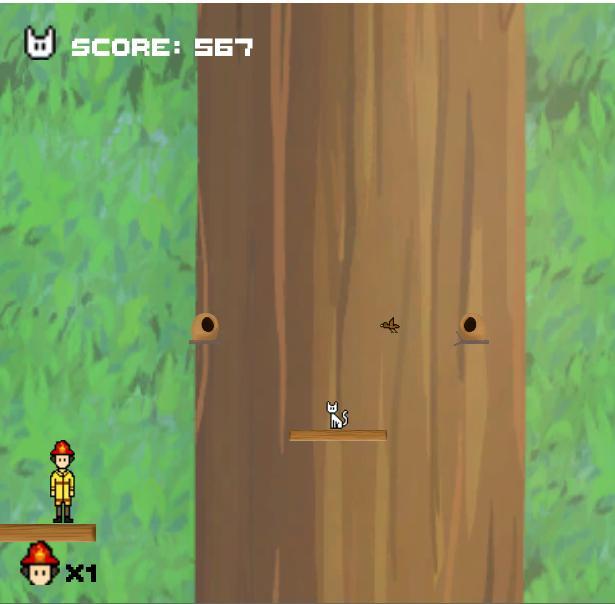 Ta bem legal de jogar o jogo hahahaha mas a véia já deve estar se questionando por quê ela paga imposto pra esse bombeiro incompetente kkkkkk
Desde que eu descobri o conceito do jogo já avhei incrível! Fui jogar e me diverti muito! Só ri demais do quão ruim eu sou. Se depender de mim a senhora nunca tem o gato de volta haha