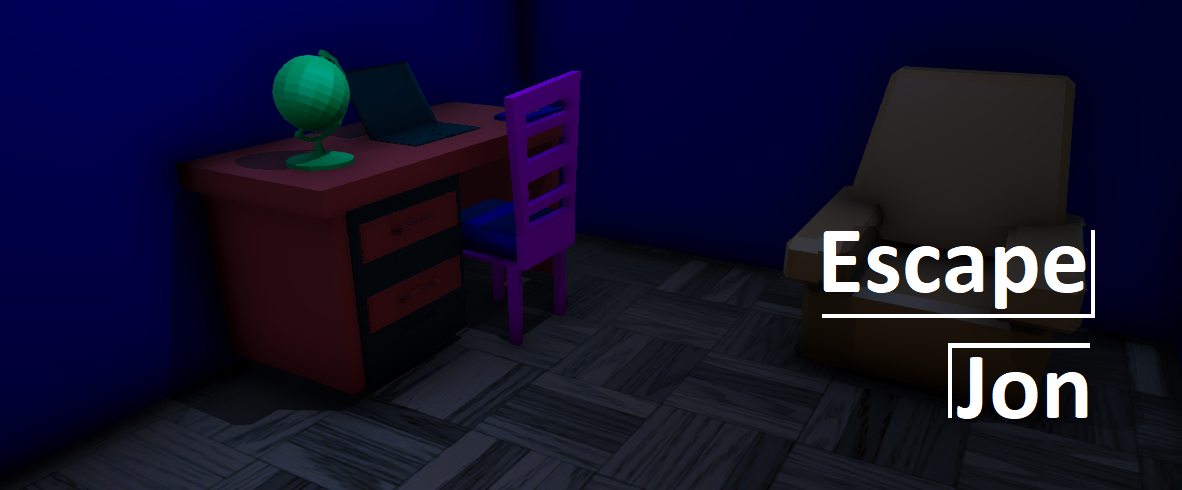 Escape Jon
Em uma casa repleta de desafios, o objetivo é simples: escapar!
Jon acorda assustado e sozinho em um quarto desconhecido. Seu instinto de sobrevivência o obriga, então, a explorar os ambientes desta casa em busca de uma saída. Será que ele é capaz de resolver os desafios e alcançar este objetivo?

Escape Jon é um jogo em estilo Escape Room, que te desafia a resolver puzzles enquanto explora uma casa na qual você não pretende ficar para sempre. Resolva os desafios e colete as chaves que permitirão que você abra as portas para a liberdade!

Resolva puzzles empolgantes e desafiadores
Explore os diversos ambientes de uma casa estranha
Encontre chaves que te ajudarão a escapar
Ouça áudios e tente entender o que está acontecendo
ATENÇÃO: O jogo é pesado e pode apresentar problemas na versão para navegadores, para uma melhor experiência faça o download.

Escape Jon foi feito no processo de treinamento de novos membros, em 2017, usando Unity. Ele está disponível para Windows e Linux, apenas em Português. Além disso, o código-fonte do jogo também está disponível no GitHub.

---
In English
IN A HOUSE FULL OF CHALLENGES, THE GOAL IS SIMPLE: ESCAPE! Escape Jon is a Escape Room game-based, in which Jon wakes up alone and scared and must find his way out of this unknown house.

To do so, the player is able to explore the different rooms of the house, solving challenging and exciting puzzles. Furthermore, you can look for audios that will help you to understand what is happening, and also find keys that will lead you to the freedom! Escape Jon is available for Windows and Linux in Portuguese.
ATTENTION: The game is cumbersome and may present problems in the browser version, for a better experience please download the game.

The source is also available on GitHub.
---
Créditos (Credits)
Programação (Programming): Felipe Torres, Gabriel Carvalho e Klinsmann Hengles
Arte (Art): Priscila Zucato e Vagner Vitor
Design de Níveis (Level Design): Felipe Torres, Gabriel Carvalho, Klinsmann Hengles, Priscila Zucato e Vagner Vitor
Tutoria (Tutorship): Jorge Halker e Lucas Soares